Profiles in Yukon Territories
Carolyn Relf
Director, Yukon Geological Survey
Carolyn is currently the director of the Yukon Geological Survey. YGS is one of Canada's top-ranked geological surveys, carrying out research that ranges from mapping the geology of Yukon's mountain ranges, unraveling its glacial history, studying active earthquake zones, understanding permafrost, and providing information that supports the discovery of Yukon's mineral and energy resources.
---
Bill Lebarge
Placer Geologist
My name is Bill LeBarge. I was born and raised in the Yukon and I am a beneficiary of the Ta'an Kwatch'an First Nation - the people of Lake Laberge. I am the Placer Geologist for the Yukon Geological Survey, and have studied Yukon placer gold deposits and the Yukon's placer mining industry since 1993.
I completed my B.Sc. in Geology at the University of Alberta in 1985, and I finished my M.Sc. in Geology (Sedimentology) at the University of Calgary in 1993.
---
Sarah Laxton
Outreach Geologist
My interest in the Earth Sciences began at an early age when I would sneak rocks into my father's backpack for him to carry home for me on family hikes. Wanting to know more about the landscape around me, I studied Earth Science and Geography in high school. After taking these courses I knew I wanted to learn more, so I then went on to study Physical Geography and Geology at university. Travelling and outdoor activities are two of my favorite things, and I was able to partake in both while at university. I was able to travel to remote helicopter access locations in the Coast Mountains of British Columbia, the Swiss Alps, Arizona, Himalaya, southern Yukon, and Alaska to participate in research projects, workshops, and conferences. Currently, in my positions as the Outreach Geologist for the Yukon Geological Survey, I am able to share my passion for the Earth Sciences with all sorts of people and I really enjoy my job.
---
Profiles in North West Territories
Thomas Hadlari
Project Geologist - Stratigrapher
My name is Thomas Hadlari. I did a Bachelor's degree at University of Saskatchewan in geology (1998). I obtained at Ph.D. in geology at Carleton University in Ottawa (2005).
I currently work in Yellowknife, NT, as a geologist at a territorial government office called Northwest Territories Geoscience Office. I also went to grade school in Yellowknife, so in some respects I came home after University (my family currently lives in Cambridge Bay, Nunavut). Living in the north is important to me because I want my daughter's native heritage to be passed on to her in a way that isn't available in southern Canada.
---
Profiles in Nunavut
Joyia Chakungal
Research Scientist
I was born and raised in the suburbs of Toronto, Ontario to parents who both came from southern India, which makes me a first generation Canadian. I grew up in the city where there weren't many opportunities to do a lot of outdoor activities like camping or hiking. As a family we just didn't do that sort of thing, at least not often. However, the lack of exposure never stopped me from day-dreaming of one day spending more time in the outdoors and getting to places that people thought I was crazy for wanting to go. I also always had a fascination for ancient things and a natural curiosity for why my surroundings and society in general, are the way they are...
---
Profiles in British Columbia
John Clague
Professor
I was educated in Los Angeles (B.A. degree), Berkeley (M.A. degree), and Vancouver (Ph.D. degree). I am a currently a Professor in the Department of Earth Sciences at Simon Fraser University (SFU). Prior to my appointment at SFU in 1998, I was a Research Scientist employed by the Geological Survey of Canada. I am passionate about earth sciences I view what I do as a "calling", rather than a 9-to-5 job. I am a scientific "detective" trying to reconstruct the history of planet Earth. My main interests are Ice Ages and hazardous processes, including earthquakes, tsunami, floods, and landslides. Currently, my graduate students and I are conducting research in Alaska, Yukon, British Columbia...
---
Jenn Sabean
Geotechnical Consultant, Jenn Sabean, M.Sc., P.Geo.
Growing up in Ontario, I loved the family summer road trip to the east coast where I could explore new places and play in the ocean. After high school, I wanted to be closer to the coast, so I began my undergrad at Dalhousie University in Halifax, NS. I took a first year geology class and it was great to learn in the classroom, the laboratory, and outside on all kinds of field trips. Some of the best trips included spelunking through caves in West Virginia, clambering the rocky coasts of Newfoundland, & tracking the entire east coast of North America. I took 4 years of courses to obtain my Bachelor of Science Degree in Earth Science, with a minor in Oceanography by 2001. I did an honors thesis, studying how coastal oil spills affect marsh environments using microfossils.
---
Jeremy Major
Consulting geologist
My childhood in southern Ontario was spent playing outdoors in summer and winter, on the water and in the snow. Summer camping trips to Georgian Bay with my family gave me the chance to explore the rocky shorelines and forests, a landscape much different than my home in Windsor. I continually took these chances to explore with friends through high school, but after graduation I really just wanted to ski in the mountains so I packed up and moved to Lake Louise. Here I developed a great appreciation for the Rockies and how they came to be. While I knew that at some point I wanted to go to university, I still wasn't sure what I wanted to study so I held off for a few more years and moved to a number of towns and cities in southern British Columbia working as a ski patroller in the winter and teaching sailing in the summer. After countless trips and adventures I really started wondering if I could pursue my interest in the outdoors in a university setting.
---
Profiles in Alberta
Yvonne Martin
Project Geoscientist
My name is Yvonne Martin and I am an Associate Professor in the Department of Geography at University of Calgary. I grew up in Toronto, and started to first study the earth sciences at the University of Western Ontario. I had some wonderful experiences during my undergraduate degree, including participating in an exchange program to the Geography Department at the University of St. Andrews in Scotland where over a decade later Prince William would walk the hallways (he took Geography at St. Andrews)! When I returned to Canada, I had a position as a Research Assistant at a high-altitude glacier research site near Jasper National Park what an outstanding experience for a young earth scientist! I then attended the University of British Columbia in the beautiful city of Vancouver to undertake my M.Sc. and Ph.D. degrees. This was a wonderful experience for me, and I learned so much about earth science from the outstanding professors there who truly inspired me.
---
Ian Young
Vice President
I started my career at EnCana in 1985 with a BSc Hons from the University of Calgary, and spent the next twelve years learning the oil and gas business, prospecting throughout western Canada. During that time, I proposed and drilled hundreds of oil and gas wells, some of which were very successful and some of which came up dry. Whatever the result, it was always thrilling to get to drill through the target and wait for the data from the well which would tell the story.
---
Rachel Newrick
Geophysicist / Geoscientist
I am a scientist, a traveller, a biker and an adventurer. Life is full of variety and there is always something new to learn or to experience. I work for Nexen Inc. as an Exploration Geophysicist which means I help find new pools of oil and gas. After my undergraduate degree in Geology and Honours in Geophysics, I left New Zealand to backpack around the world Central America, Europe and Africa - just for fun! Later I came to Canada and got a PhD in Exploration Seismology (geophysics). While at grad school, I travelled to international conferences, taught field schools and lab classes, and co-authored a textbook on seismic interpretation.
---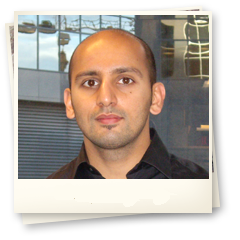 Hassan Odhwani
Processing Geophysicist
Hassan Odhwani graduated in 2005 from the University of Calgary receiving his B.Sc in Geophysics. In October 2005, he was hired as a Seismic Processor for Geo-X Processing (now Divestco Inc.). Currently, he is working in a group that specializes in AVO processing. Using the principles and methodologies he acquired through his degree, Hassan excels at his work and is very passionate about what he does.
---
Mark Dizkowski
Geologist
My name is Mark Dzikowski. I am a geologist working for a natural gas exploration and production company where I've been working for five years for a total of ten in the industry. I am 32 years old and came to Canada from Poland as a teenager at the age of 14 via a brief two year stint in Germany in between. I was introduced to geology by my at-the-time girlfriends' father when I was in grade 12. Geology struck a good vibe with me, as it would allow me to combine my enjoyment of the outdoors with an interesting and engaging profession.
---
Profiles in Saskatchewan
Kate Maclachlan
Precambrian Geologist
Kate MacLachlan is a Precambrian Project Geologist with Saskatchewan Ministry of Energy and Resources, Northern Geological Survey. She undertakes field work in the Canadian Shield of northern Saskatchewan as part of her research to support the mineral exploration industry in the province. Kate graduated with a B.Sc. Honours in geology from McGill University (1989) and then went on to complete an M.Sc. (Queen's University 1993) and a Ph.D. (Memorial University of Newfoundland 1998), both in geology. Following her Ph.D. Kate worked as a Post Doctoral Fellow and Research Scientist in the geochronology laboratory at the Geological Survey of Canada. Much of her research over the years has been focused in the far north of Canada including both Nunavut and NWT. Kate lives in Regina, Saskatchewan with her husband Ken and is currently the president of the Saskatchewan Geological Society.
---
Kim West
Academic Program Coordinator
I am an Earth scientist and teacher at the University of Saskatchewan. My job is unique in that I work for our teaching and learning unit on campus and occasionally, I teach classes in our geology department. I recently completed my PhD degree in Geology from Carleton University and my first degree, a Bachelor of Science Honours, came from the University of Saskatchewan.
---
Profiles in Manitoba
Nancy Chow
Professor of Geology
I am a Professor of Geology in the Department of Geological Sciences at the University of Manitoba in Winnipeg. The job is multi-faceted and includes teaching introductory geology courses and sedimentary geology courses, and doing research on ancient limestone reefs in Canada and Australia. My teaching involves developing and delivering lectures and laboratories, running field trips and supervising students on research projects. My research addresses important questions about the history of ancient reefs that are ~400 million years old and the role of past climate change, sea-level variations and crustal movements on reef evolution. The work has taken me to many interesting places such as Australia, China, Barbados, Arctic Ocean, Iceland and throughout Canada. I have a job where I am paid to do work that I greatly enjoy.
---
Profiles in Ontario
Lesley Hymers
Project Manager
Lesley Hymers is currently serving as Project Manager with the Prospectors and Developers Association of Canada Mining Matters, an organization whose mission is to provide minerals, metals and mining education. Prior to joining Mining Matters in June 2008, she spent more than 5 years in industry, working with Dufferin Aggregates, where her responsibilities included coordinating an Education and Outreach Program. Prior to joining industry Lesley served as Instructional Development Program Coordinator in Teaching Support Services at the University of Guelph.
---
Nicole Januszczak
Senior Geologist
Nicole is currently a Senior Geologist with De Beers Canada Inc. She has been working for De Beers Canada since 2005, exploring for new diamond mines within Canada. Nicole has worked on every continent, and has worked both on land and at sea. Most recently, she has spent time in Angola and northern Ontario. Nicole gets the opportunity to visit remote locations and gets to know the local communities, their heritage and their culture. Singing "O Canada" in Inuktitut and participating in the Inukshuk-building competition on Canada Day in Igloolik is an opportunity not to be missed! There is so much to Canada!
---
James Siddorn
Structural Geologist
I am a specialist in the structural analysis of base metal, precious metal, and diamond deposits, and in applied 3D geological modeling. I work for SRK Consulting (Canada) Inc. in Toronto. SRK is a unique company as it places a high level of importance on structural geology in exploration and mining. Through working for SRK I have been able to work in Asia, Australasia, Africa, South America, North America, and Europe, working in numerous commodities in geological terranes ranging from Archean to Mesozoic (4,000 to 66.5 million years ago) in age.
---
Jessica Spratt
Geophysical Contractor
After years of working worldwide as a geophysical research technician with the Dublin Institute for Advanced Studies in Dublin, Ireland, I have recently returned to Canada to work as a self-employed contractor. My specialty is a method called magnetotellurics or MT. MT is a method that provides information on the electrical conductivity of the Earth by measuring the natural time-varying electric and magnetic fields at its surface. These fields are generated from electrical currents that are produced from natural variations in the Earth's magnetic field. One of the things that I really enjoy about my work is the many different applications that exist for MT and that new applications are still being developed. The MT method is commonly used in the deep exploration of the Earth, helping to understand tectonic processes and structure at depths to 100s of kilometers.
---
Katherine Dunnell
Mineralogy Technician
My original passion was medicine, but after a year of university spent touching 'slimy' things, I decided inorganic sciences were much more appealing. Geology really appealed to me because it is the most tactile of all the sciences, so I switched to an undergraduate program in physical geography.
In between academic years, I spent two summers as a junior mapper living in northern Ontario. From my experiences in the 'bush', I gained a better appreciation for the beauty of the unspoiled north, the ability to cook a roast over an open fire, and a huge disdain for black flies. I also worked two summers at the Great Lakes Institute for Environmental Research...
---
Mandy Meriano
Hydrogeologist
Dr. Mandy Meriano is a hydrogeologist. She received her PhD from the University of Toronto in November 2007. Her research focused on the nature of groundwater flow and impacts of urban development on water quality. Prior to beginning her PhD studies, Ms. Meriano worked as a hydrogeologist for Golder Associates, an environmental engineering consulting company based in Mississauga, Ontario where she investigated and assessed properties for signs of contamination and assisted with site remediation. She has been involved as a speaker for the Earth and Space Week hosted by the Ontario Science Centre and has volunteered for several years as a science fair judge for the Toronto Sci-Tech Fair.
---
Cheryl McKenna-Neuman
Professor
Cheryl McKenna Neuman obtained her MSc in physical geography in 1983 from the University of Guelph, and her PhD from Queen's University in 1988. She joined the Department of Geography at Trent University as a faculty member in 1989. Her research interests in wind erosion lie at the intersection of climatology, geomorphology and soil science. Over a third of the land surface of Earth is arid to semi-arid, and is affected to varying degrees by wind transport of soil particles. Emission of these particles is a key process contributing to desertification and poor air quality in many regions. Cheryl is an expert in wind tunnel simulation of this process, which requires a solid understanding of fluid mechanics and soil physics, as well as considerable technical competence...
---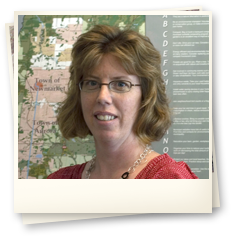 Wendy Kemp
Water Resources Program Manager
Groundwater remains an important source of drinking water for the Region and my role as Program Manager of Water Resources is to take actions to ensure that our water resources remain available and safe for future generations. These actions are centred on protecting and monitoring our groundwater, meeting compliance commitments, building and communicating science knowledge. My role is unique in the Region as involves vision to a very multi disciplinary and faceted portfolio. Unlike consulting where projects have a beginning and end, program management requires continuous improvement and evolution. Working as Program Manager requires an ability to make the connections across the entire water resources 'puzzle' and I think that is likely the single challenge that I find most rewarding.
---
Magdi Widaatalla
Hydrogeologist
My name is Magdi Widaatalla. I was born and raised in a small village called Portbail in the central Sudan, East Africa. I completed all of my schooling (elementary, middle and high) in Sudan. I graduated in 1987 with a B.Sc. (Honour) degree in Geology from the University of Khartoum, Sudan. After graduation, I worked as a Hydrogeologist with a consulting firm in the capital Khartoum. I travelled around and visited many parts of the Sudan drilling water supply and irrigation wells. In late 1980's I went to Saudi Arabia where I spent 9 years working with a consultant.
---
Pierre Landry
Geologist
My job in the mining industry provides me with a first hand look at how grass-roots geological work can have an impact on corporate decisions. Not many people realize that one rock sample taken in the field by a geologist can start a chain of events that can help generate or cost a company millions of dollars.
Working as a businessman on Bay St. was always a dream I had as a teenager growing up in the GTA, and throughout my university education I struggled with the idea of being a geologist permanently positioned in the field, so this position as a "Corporate Geologist" allows me effectively use my education while remaining close with family and friends.
---
Andrée Blais-Stevens
Research Scientist - Geology
Andre obtained her BSc in geology from the University of Ottawa and her MSc and PhD in Earth sciences from Carleton University. She has been working for the Geological Survey of Canada since 1993 as a research scientist. During her MSc and since hired by the GSC, she developed expertise in Quaternary glacial geology mapping for southern Qubec, southern Prairies (Saskatchewan and Manitoba), central and southwestern British Columbia. For her PhD and later as a GSC scientist, she studied the sedimentology of Saanich Inlet, BC (Ocean Drilling Program Leg 169S), which included submarine landslides that are linked to past earthquake events. She also managed the Climate Change Impacts and Adaptation Research Network on landscape hazards office (C-CIARN LH) based at the GSC. A network designed to bring scientists and decision-makers together on issues related to climate change and its impacts on the landscape.
---
Profiles in Quebec
Caroline-Michèle Laplante
Senior Geologist
I am the senior geologist at the Mouska Mine, in NW Québec. I supervise the exploration and diamond drilling programmes. I am also responsible for the QA/QC (quality control of analytical/chemical data) and I make all mineral resources calculations. A team of geologists work under my supervision.
---
Mathieu J. Duchesne
Research Geoscientist
I am a Research Scientist at the Geological Survey of Canada in Quebec City. As long as I can remember I have always been attracted by science, especially Earth sciences. How the land and the ocean interact and how the Earth has formed are something that have fascinated me for a long time. What is even more intriguing is how such a dynamic planet has been able to survive and evolved for 4.54 billion years! My research thematic consists in studying the subsurface geology of Canada. In order to do so, I am using a geophysical method named seismic reflection. This method uses sound waves to image the internal structure of the Earth's crust and gives information about the geological layers that forms it. Seismic reflection uses vibrator trucks on land and airguns at sea. Vibrator trucks and airguns emit waves travelling through the subsurface. Waves are reflected when they hit the interface of geological layers and highly sensitive receivers are collecting reflections coming from depths that sometimes reach more than 20 km.
---
Virginia Brake
Geoscience Research Professional
I am a physical scientist with the Geological Survey of Canada in Quebec City. My current research focuses on the investigation of vintage and modern seismic reflection and exploration well data in the Arctic.
Hailing from the cold and rocky shores of western Newfoundland, I happened upon my geologic journey by accident. After graduating from Stephenville High School, I headed off to the mainland. It was at Dalhousie University in Halifax, Nova Scotia that I learned that my interest in rocks could actually become a career. I took an introductory geology course simply to fill a science requirement and two weeks later I was wondering why I hadn't been taking Earth Science all along. Needless to say, I was hooked and I loved the field trips that took us outside and had us see things in a new light; and not just in Nova Scotia- I also had the opportunity to participate in honours field trips in Trinidad and Chile. My first job as a junior geologist was at the Tsa de Glisza emerald project in the Yukon – a place that once seemed so far from home, I thought I would never visit. After completing my undergraduate degree at Dalhousie, I was off to Ontario to work at a junior mining company for the summer. When the summer was over I returned to Dalhousie to pursue a master's degree in Earth Science studying buried submarine canyons. During my degree I was co-supervised by a researcher at the Geological Survey of Canada (GSC)-Atlantic and was introduced to the GSC work environment. After completing my master's thesis I went to work at the GSC in Quebec City.
---
Profiles in Newfoundland and Labrador
Lori Cook
Geoscientist
In high school I studied biology, chemistry, and physics so I knew that in university I wanted to pursue science but was unsure which discipline to focus on. At Dalhousie University I signed up for a program called the Dalhousie Integrated Science Program (DISP) that offered a wide range of courses that included Earth Sciences. I discovered that geology not only combines many aspects of science it also requires a level of creativity and an ability to be able to visualize the earth and its many processes. After that year in DISP I decided to persue a Bachelor of Science (Honours) degree in Earth Sciences. Having this degree in geology under my belt opened a world of possibilities after university. One of the first jobs I had was working on a helicopter-based...
---
Derek Wilton
Professor
I was born and raised in St. John's, Newfoundland, and received my B.Sc. from Memorial University of Newfoundland (MUN), my M.Sc. from the University of British Columbia, and my Ph.D. from MUN. I was in university for twelve years. I became interested in geology while still in junior high school as I was always active in the outdoors and also enjoyed laboratory work, thus geology offered the best of both worlds; a job outside the office in summer, and winters in a lab analyzing rocks collected in the field. Since 1984, I have been a faculty member in the Department of Earth Sciences at MUN (Full Professor since 1995) and have engaged in mineral deposit research in Newfoundland and Labrador, other parts of Canada, Nevada, Botswana and Malaysia.
---
Profiles in Nova Scotia
Amy Tizzard
Geologist
The earliest I can remember taking an interest in natural history comes from a class project in the 1st grade at elementary school in my hometown of Oxford, Nova Scotia. The entire class built a replica of a stegosaurus made out of wire and paper-mâché. Afterwards, I was sure I wanted to be a palaeontologist.
Although my interest in dinosaurs and fossils waned over the years, I remained interested in the natural history of the Earth and knew that I wanted a career involving the outdoors.
---
Ken Adams
Director/Curator
I was born in Trenton, Ontario and raised as part of a military family. I had early opportunity to live and travel in Eastern Canada and Europe, and I developed an interest in fossils, dinosaurs and landscapes shaped by past events. While living in Val d'Or, Quebec, the families of many of my class mates were involved in mining and mineral exploration. I received my Bachelor of Science in Geology at Mt. Allison University in Sackville, New Brunswick in 1973. I received my Master of Science degree in Geology at Acadia University in Wolfville, Nova Scotia in 1978, studying the Taxonomy and Paleoecology of the Gigantoproductids of Nova Scotia. As I student, I worked with Noranda Exploration, AMOCO...
---
John Gosse
Associate Professor
Dr. John Gosse is a Canada Research Chair and Associate Professor with the Department of Earth Sciences at Dalhousie University in Halifax, Nova Scotia. He is the director of the Cosmogenic Nuclide Exposure Dating Facility at Dalhousie, and is an adjunct professor at the University of Kansas (where he taught from 1996-2001 and helps direct a similar facility) and Lehigh University (where he graduated with a Ph.D. in 1994). John was raised in Corner Brook, Newfoundland, completed his B.Sc. (Honours) in Earth Sciences at Memorial University of Newfoundland, and conducted post-doctoral research at Los Alamos National Laboratory. His research involves the application and development of new geological dating techniques that take advantage of the interactions between cosmic rays and exposed rocks on Earth's surface.
---
Mladen Nedimović
Professor
I was born in Belgrade, Former Yugoslavia (now Serbia). I was educated in Tehran (Iran), Belgrade (Serbia), North Haven (USA), Toronto (Canada), Sidney (BC, Canada), and New York (USA). I currently life in Halifax, Nova Scotia and work at Dalhousie University where I am an Associate Professor and Canada Research Chair in Geophysics and Petroleum Exploration. I also am associated with Columbia University in New York City where I am an Adjunct Research Scientist. I teach courses to undergraduate and graduate students, and supervise graduate students and post doctorate researchers. I also carry out research, mostly in controlled source seismology with particular focus on reflection imaging.
---
Henrietta Mann
Researcher, Director and Lecturer
I am originally from Czechoslovakia . In high school I took chemistry, biology, physics and math so, I was prepared to take some biology and geology courses in university when I came to Canada. I was one of the first female students to pursue a career in the field of geology. I also have a degree in biology. These two degrees allowed me to do environmental biology/geology.
In environmental biology/geology, you use electron microscopes to see small grains in rocks and into bacteria where you can see crystals inside bacteria cells. Imagine looking inside of something you cannot see...
---
John Calder
Geologist
John was born and lives in Nova Scotia, although he has travelled extensively beyond its shores. As a boy he loved to walk the shore in search of rocks, fossils and sea life. He graduated from Saint Mary's University with his BSc in 1973, and later, in 1991, from Dalhousie with his PhD. John's early work as a geologist involved exploration and study of coal deposits. He made many contacts with other researchers through presenting papers at international meetings, and these led to exciting opportunities and lasting friendships. John has spent time at the Smithsonian Institution as a visiting scientist and has been supported by the National Geographic Society.
---
Mark Deptuck
Petroleum Geologist
My name is Mark Deptuck and I am a Geologist who specializes in marine geology. I went to high school in Newmarket, Ontario where I graduated with honours from Huron Heights Secondary School in 1993. Most of my friends went to universities in Ontario, but because of my desire to be near the ocean, I chose a road less travelled and went to Saint Mary's University in Halifax, Nova Scotia. In my second year of university I became interested in marine geology after I got my first 'real' job as a summer research assistant at the Bedford Institute of Oceanography. After spending 2 months studying cores from the Amazon submarine fan (collected from 3000 m below the sea!), 3 weeks collecting cores and seismic data on a research cruise in the North Atlantic...
---
Tracy Webb
High School Science Teacher
Tracy grew up in parts of northern and southern Ontario, the longest stay at Timmins, then moved to Nova Scotia as a teen. With an early interest in rocks and the outdoors in general, taking a gr. 12 Geology course changed her focus from being a vet to studying fossils. She graduated from Acadia U. with B.Sc Geology and B.Ed., and has a diverse background, having taught over the past 20+ years senior Biology, Chemistry, Geology and Science 10. She contributes to many organizations: Atlantic Geoscience Society and EdGEO; National Education for Sustainable Development Expert Council (part of Learning for a Sustainable Future - LSF); SENSE Sustainable Education in Nova Scotia for Everyone; Safe Drinking Water Foundation of Canada - Board of Directors and Education Chair; EECOM; National Committee of Teacher Advisors for Green Street; teacher advisor for the Atlantic Chapter of the Sierra Club; Kieran Pathways Society (alternative transport) and the NS Provincial Science Lead Team.
---
Profiles in New Brunswick
Randall Miller
Research Curator of Geology and Palaeontology
Randall Miller studied geology in the Department of Earth Sciences at the University of Waterloo and received his Ph.D. in Environmental Earth Science in 1984. His research for his graduate studies was about climate change during the last ice age. His thesis applied geochemical techniques to the study of fossils. Before finishing a Ph.D. he spent a term as a visitor at the California Institute of Technology in the Division of Geological and Planetary Sciences.
---
Profiles in Prince Edward Island